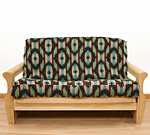 Futon Covers -All Sizes & Options

All made in USA. Futon covers are available in 10 standard futon mattress sizes. Our futon covers feature durable 3- way zipper. Buy directly from manufacturer and save.
Durable Futon Sets

We offer both metel and hardwood futon sets. All in Stock. FREE Shipping.
Futon Mattresses

Comfortable, durable and affordable futon mattresses. All in Stock. FREE Shipping.
Futon Frames

Futon frames are available in different arms styles and finishes. All in Stock. FREE Shipping.
Skirted Futon Covers

What is Skirted futon cover? It is a patented furniture slipcover by Easy Fit, Also known as futon slipcover that made with a skirt and completely conceals the front and the back of futon frame and provides an upholstered look. The front skirt may be folded for exposed front appearance. This futon slipcover is zipper-less, so you can remove it in less than 30 Seconds! (We have done it).
Matching Pillows & Bolsters

Matching pillows and bolsters. Mixing patterns doesn't have to be tasteless. By following a few simple rules to combining patterns, it's actually quite simple to make sure your mix of patterns is classy, not tacky. When mixing colors, it's important to stick within the bounds of similar color intensities and tones. Don't mix brights with pastels, for instance.
Gripper Pad for Futons

Futon mattresses have a tendency to slip and move around on a frame. A Non-Slip Gripper Pad eliminates this problem. Non-Slip Gripper Pad is placed underneath the futon mattress, on the seat deck and keeps the futon mattress from moving, slipping and sagging. One size Fits All.
Looking to purchase futon cover, perhaps a traditional floral print, or a contemporary design or stripe pattern, or or even one of those leather faux suede futon covers, don't spend too much time on cover contest, first of all consider looking in to overall visual appearance of your future futon covers. Note that futon furniture is a furniture, therefore fabric that is applied to cover the futon mattress is made from upholstery grade fabrics and usually will last as long as your existing upholstered sofa or chair. As a rule of thumb you may follow basic guide lines for purchasing futon covers, such as: If you have pets the microfiber futon covers are not recommended, as they pick up allot of lint and pets hair. if your futon is in moist environment look in to outdoor futon covers or fabric that has more polyester. Now for extreme futon furniture protection buy vinyl leather futon cover as it is fully water resistant and will last as long as bar chair seat. Select bright colors for teen futon covers and theme patterns for kids futon cover. Don't worry about maintenance most futon covers are machine washable.