Chair Ottoman Solid Light Pink futon cover is crafted from upholstery grade duck and will last the test of time. With this cover, seasonal decorating throughout your home is fun and easy, for perfect results you may coordinate this solid slipcover with a variety of other solids, floral, plaids, and stripes. Durable and easy to care for, 50% cotton, 50% polyester. Machine washable

Made to fit Ottoman size futon cushion measuring 21 inches wide, 28 inches long and up to 8 inches thick. Futon cover features 3 sided, concealed zipper construction.
SKU
21-415 12
Colour
Purple/Mauve/Plum
Red/Berry/Pink
Type
Futon Cover Chair Ottoman
Material
Cotton/Blend
Pattern
Solid
Origin
USA
Size
Ottoman
Please check our sizing chart below for your correct size.
Note:
Full Size is the most popular size and accounts for 88% of futons sold in US.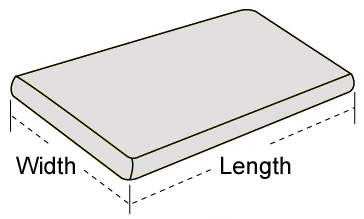 More info: How to Measure Futon Covers
o Full Futon Covers: 54" Wide X 75" Long
o Queen Futon Covers: 60" Wide X 80" Long
o Twin Futon Covers: 39" Wide X 75" Long
o Chair Futon Covers: 28" Wide X 54" Long
o Ottoman for chair: 28" Wide X 21" Long
o Twin Loveseat Futon Covers: 39" Wide X 54" Long
o Twin Ottoman Futon Covers: 39" Wide X 21" Long
o Loveseat Split Futon Covers: 54" Wide X 54" Long
o Loveseat Ottoman Futon Covers: 54" Wide X 21" Long
Futon Thickness:
The standard futon cover will fit futon mattresses with thickness from 6 to 8 inches.
Multiple options for Thickness and Sizes are available in dropdown.

We also make odd size Custom Covers for futons and cushions.

Our Futon Covers Feature:
o Durable long zipper opening for easy and quick installation.
o Pattern all around. This means that it is covered in same fabric on all sides.
o Matching futon pillows and bolster include: zippered covers and removable polyester stuffers.
o Proudly made in USA, serged and over-locked to prevent fraying.